Available as single box + USB cable replacement
Usage & Benefits
The USB isolators effect a potential decoupling of all USB connections and separate the 'normal' PC system from the critical application.
Protection & security
They are the professional tools to avoid and fight ground loops and equalizing currents and to protect against overvoltage.
Certified quality
High isolating voltage and certification according to IEC60601-1 recommend the isolators also in sensitive applications.
Advanced Safety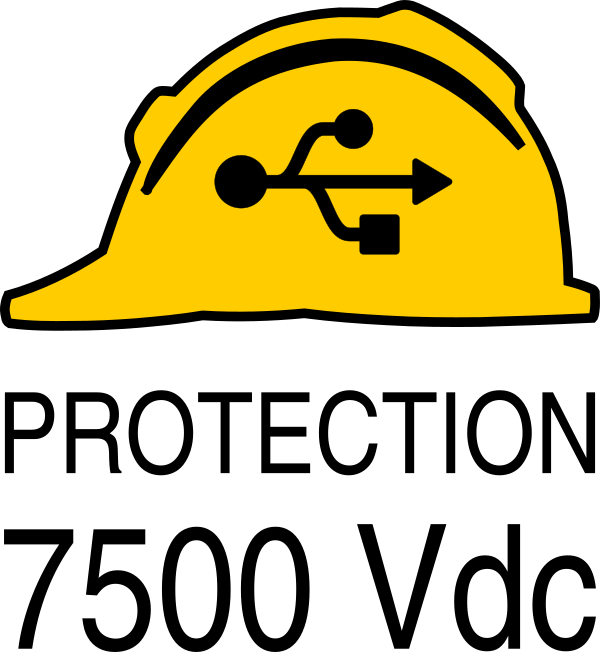 The ISOUSB-PLUS Series
IFTOOLS continues to take the USB isolation to the next safety level.
The ISOUSB-PLUS isolator series provides you with:
TÜV certification to the highest safety standard IEC 60601-1 Rev 3.2
Isolation 7500 Vdc 1 second, 5000 Vrms 1 minute
Robust shielded metal housing
High retention force connectors (box)
The Box
Unique high up to 7.5 kV isolation for data and energy to­geth­er with an unbeatable high working range recommend it for very sensitive and critical applications.
The Cable
Extra safe and easy usage. Just exchange the USB cable for the isolator cable — no further connections needed. Available with several connectors.
MORE FEATURES
Led indicators
(Multi) coloured LEDs display the state of the USB connection.
Ready to use
OS independent!
No software or driver needed.
Overload proof
Don't worry if something is going wrong.
3 year warranty
Made in Germany.
14 day sale or return.
Applications
Medical Appliances
Fitness Machines
Industry Robots
Production Equipment
Industry Controllers
Audio Ground Breaking
Specifications
ISOUSB-PLUS
Transmission rates
USB 1.1/2.0 compatible, full speed (12Mbit/s)
Isolation
7500 Vdc 1sec, 5000 Vrms 1 min, max. working range 250 Vrms
Transient protection
±15 kV according to IEC 61000-4-2
Certification
IEC60601-1:2020 (Ed3.2), IEC60601-1-2:2015, CE, FCC, JIS T 0601-1:2017 (IEC 60601-1:2005 + A1:2012 + A2:2020)
Energy transfer
Primary to secondary side max. 3W, efficiency about 85%, overload proof
Auxiliary voltage input
no
Design
Robust shielded metal housing with USB ports (box) or cable connectors (cable)
Connectors Box
High retention force connectors, USB-Prim: Jack Type B, USB-Sec: Jack Type A
Connectors Cable
Primary: USB Plug Type A, Secondary: USB Plug Type B
Environment
0-40°C (32-113°F) 20-90% humidity, non-condensing.
Dimension & Weight
96mm x 57mm x 18mm (length, width, height). Weight ca. 110g box, 220g cable
Scope of delivery
Isolator, USB cable 2m with A and B plug connectors (only box version), detailed manual
Price
189 € without Tax
Available as
Shop

ISOUSB-PLUS-BOX

PDF

Sec: Std-A Socket
Prim: Std-B Socket
Shop

ISOUSB-PLUS-CABLE

PDF

Sec: Std-B Plug
Prim: Std-A Plug
What type fits you best?
Highest safety standard
Low costs
Universal usage
Easy connectable
All specs on a glance
Just download our comparison paper with all isolator specifications as a PDF file.