The perfect combination of sophisticated hardware and software analysis
An essential tool
for analysis and optimizing of all RS232 and RS422/485 field-bus connections. It gathers exact information about every line change with 1µsec precision – indispensable for each analysis of time depending protocols like Modbus RTU, Profibus or similiar.
OSI layer support
Concurrent analysis from the phys­ical tri-state signal to the top-most levels.
All layers are only a click away. Check the data signal behind a telegram or measure the time between bits, bytes or sequences.
Synchronize the display of differ­ent layers. Let the tri-state view follow the data or telegrams and vice versa.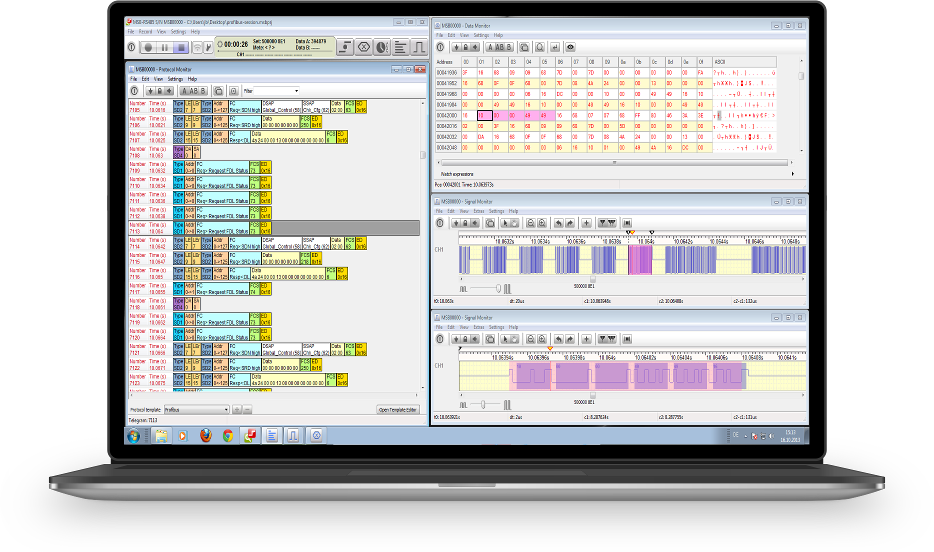 Using a powerful protocol template script engine the analyzer is able to parse all thinkable fieldbus protocols. And together with an unique box model it allows the user to format and summarize the telegram output in an extremely wide range.
---
The unerring eye
into your transmission.
OS independent time resolution of 1µs
Detects invalid/undriven signal levels
Shows the correct time relation­ship between all lines
Tri-State display of the data signal
Automatic detection of the data direction
Prepared for the unexpected
Baud rate and data format recognition
Supports any baud rate from 1...1MBaud
9 data bits protocol support
Detects breaks, frame and parity errors
Individual protocols by Lua templates
Supports logic signal levels *1
Program versions for

+
Autonoum USB device
Powered and controlled via PC/USB
Signal/data processing in hardware
Easy adaptable to various bus systems
PC independent timestamps on bit level
Updatable and maintained firmware
OSI level real-time data access by PC
Several analyzer synchronizable
Processing of logic signal levels (TTL), optional interactive switching, inverting, rerouting off all signal in- and outputs
Detection of data direction also with half-duplex (2-wire) systems, bus splitting for separate watching of certain bus participants
Don't miss anything when you are going to analyse RS232 or RS485 connections! All necessary tools in a small case and with a special price!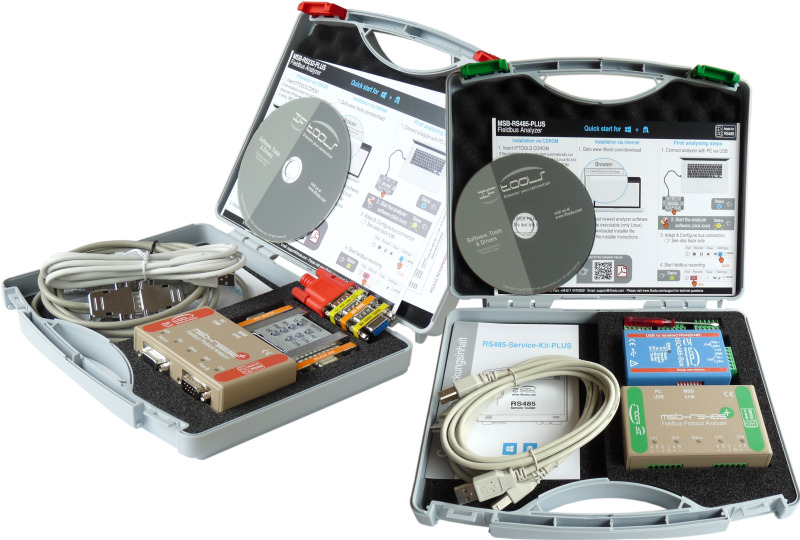 Specifications
FPGA powered signal processing
What our users say
It is a pleasure doing business with you. I have recommended your company to our business partners so I expect that you will receive a few more orders for analyzers from other Swedish companies within the next month or two.

I just wanted to let you know that the Protocol Monitor allowed me to solve the our customer problem in about an hour (even though I had originally made my travel arrangements to stay 2 days in case I needed it).

I am very happy with the simplicity of the MSB-RS485 and the way that the software works. Configuration & scripting is easy to understand and well documented in the manual. In this one occasion I asked for help, it has been given by starting with the solution!

Wir nutzen beide Analyser (RS232 und RS485) von IFTOOLS. Diese Analyser verhalfen uns bei einigen Problemen zum Durchbruch. Wir konnten damit Timing Probleme, Software Bugs u.a. schnell und problemlos aufspüren. Ich möchte diese Analyser in unserem Werkzeug Repertoire nicht mehr missen. Bei Fragen zum Lua Protokoll half uns das Team von IFTOOLS rasch und unbürokratisch. Ein tolles Produkt, das ich gerne weiter empfehle.
Free download - try it
Analyzer Software 4.6.7 - for Windows XP, Vista, 7, 8, 10 and Linux